Hurt So Good | Penny Barber
Aug 21, 2015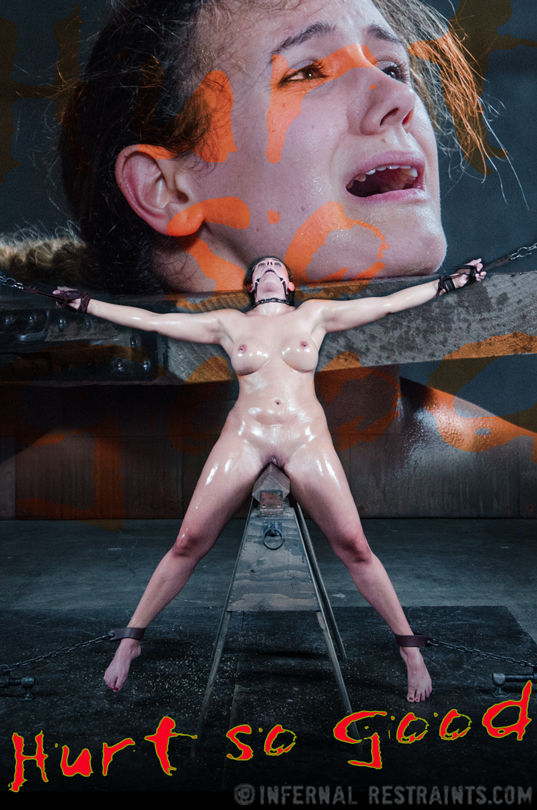 Penny Barber has been known, in the past, for being a smart ass submissive who is always begging for more with her snarky comments. Matt Williams isn't interested in giving her a chance to start with her bullshit. He's got her straddling the horse from the second she's in his clutches. Her poor pussy is pressing down on a wooden corner, crushing her clit and she is not happy about it. Matt gags her before she has a chance to start using her charms.

By the time Matt frees her mouth again Penny is feeling a bit more compliant. She's locked down in wooden bondage with a sybian between her legs, so if she can be good she knows she is in for one of the most intense orgasms of her life. Of course, since she's so perfectly positioned for punishment Matt is going to take full advantage for a bit, but patience is a virtue, and Penny knows that if she suffers for a while it will pay off.
[Archive] Playtime with Penny | Penny Barber | Rain DeGrey
Jun 15, 2015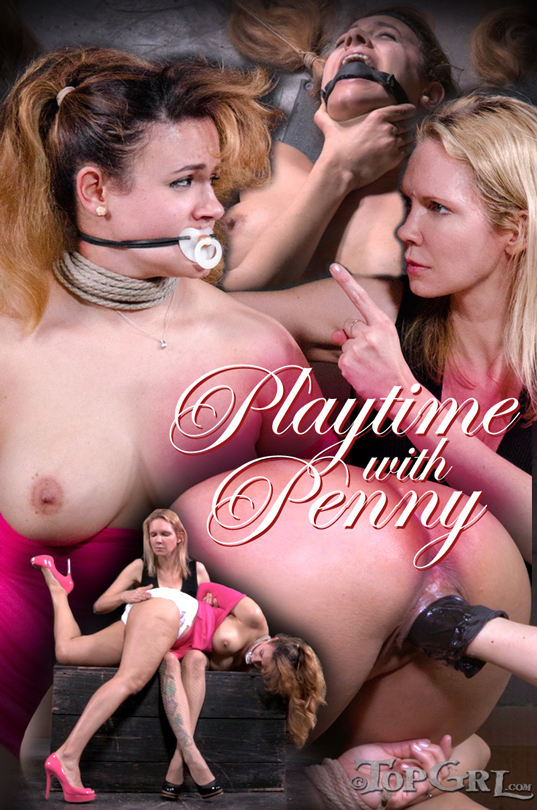 Penny Barber has very specific fantasies. Sure, she's into the kind of bondage and discipline that we're known for, but she also is into something a little bit... darker. Stuff that we would rather show than tell. Suffice it to say that when the time comes, Penny doesn't want Rain to stop using her, no matter what she says or how much she struggles.

Penny has always been known as a brat, too. She loves to talk back and take liberties, just to see if pushing buttons gets her hit any harder. Rain DeGrey is not about games. She isn't some fresh, new face to the Domme game, who doesn't know how to keep her cool. She's going to humiliate and dominate Penny from start to finish, using her how she wants to, rather than how Penny wants her to. If Penny decides to protest or put up a fight, that will just make it more fun for Rain.
Brat Training: No Really,
It's Not About You | Penny Barber | Rain DeGrey
Nov 12, 2014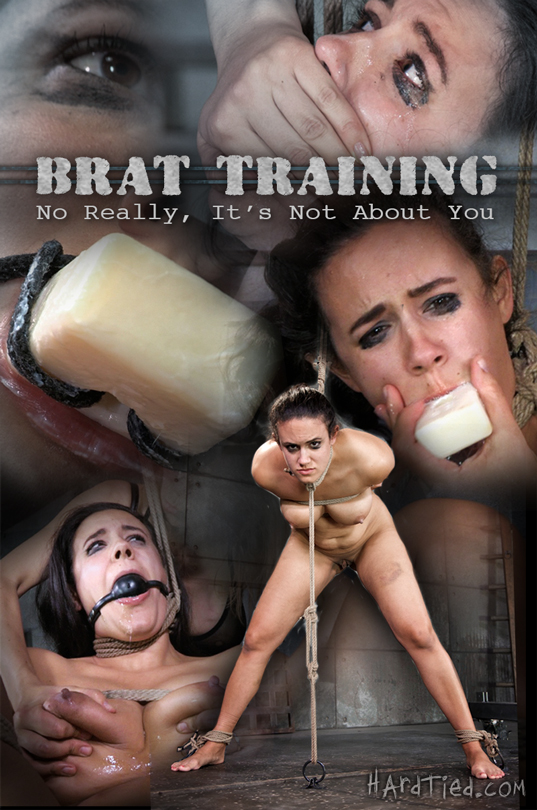 One working over was not enough for this greedy MILF. Penny Barber is legendary for how mouthy she is. This brat needs breaking but always bounces back twice as bratty as before. Jack Hammer decorated Penny with bruises and strict restraint for Infernalrestraints, but it was obvious it was not nearly enough. In the end, he brings her over to Hardtied where Rain DeGrey is waiting to take a crack at her.

Once Jack dumps off his used plaything, Rain pounces and gets to work immediately. That mouth has always gotten Penny in trouble. Time to show her the price for insolence. Penny is tightly tied and gets her mouth washed out with soap and water. Her makeup is destroyed in the process but the attitude remains. The soap is shifted into a gag and Penny is left to wallow in soapy anguish as drool pours out around her gag.

Pulling our busty MILF into a bent over position, Penny is tied down so that her juicy bubble butt is perfectly exposed. A fierce and relentless flogging on that iron ass doesn't even get her attention, and Rain has to switch to her fist. The fist does the trick as a noticeably less lippy Penny cums hard, glassy eyed and twitching. Pleasure seems to have more of an impact then pain, and Rain explores that with a merciless strap-on pounding.

Evidently pleasure is the key to unlocking this brat, and Rain binds her into a chair tie that perfectly displays that greedy cunt. Penny can not close her legs or shift in the slightest, and is promptly overloaded with with a onslaught of vibrator and fist. As her eyes roll into the back of her head, the sassy backtalk are noticeably absent. Of course, the big black ballgag firmly wedged deep between her lips probably helps too. Once every last orgasm is ripped out, our bound and destroyed fucktoy is left lolling in her ropes, drool pouring out and a distant look in her eyes.
Brat Training: It's Not
About You | Penny Barber
Nov 7, 2014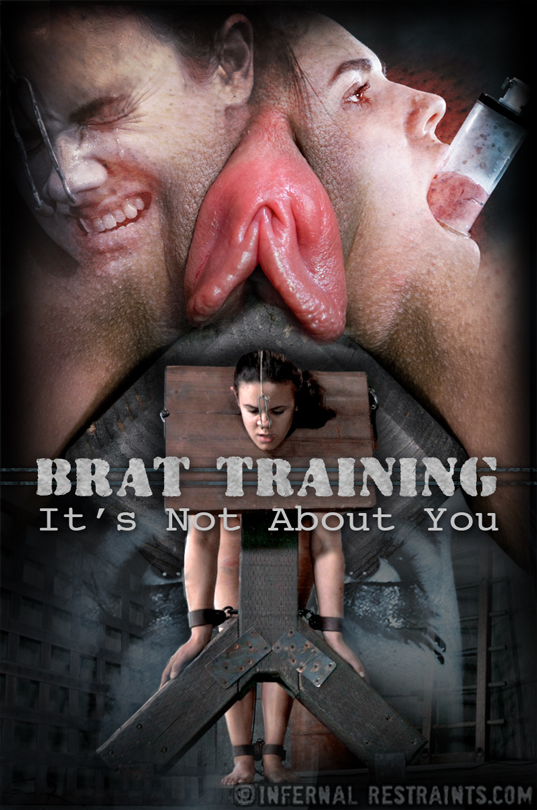 It's funny that Penny Barber thinks she is hot shit. She calls herself a MILF and prides herself on being a bratty little cunt that never breaks. She loves bondage. She loves discipline. She can't get enough of either, so most doms don't have what it takes to put her in her place. We can almost understand why. Penny is nothing if not hot. She's got great tits, a rocking ass, and you can tell from looking at her that she has the kind of holes you want to dive right into. Most doms would consider themselves lucky to get their hands on a woman like this.

Well, Jack Hammer isn't like most doms. This isn't about Penny for him, and the sooner she learns that the better off she will be. She has herself convinced that if she can keep her sassy attitude it means that she is in control. Well, if that's the case, what does it mean when she is crying so hard her make up is running down her face?

This isn't the end for her, either. You see, InfernalRestraints is all about metal bondage, devious devices and tough corporal punishment. We're taking her over to Hardtied.com to give her a dose of something a little bit different. Rain DeGrey is anxiously awaiting her arrival with a fist full of rope and nothing but the worst intentions.
Pampered Penny Part 2 | Penny Barber
Mar 21, 2014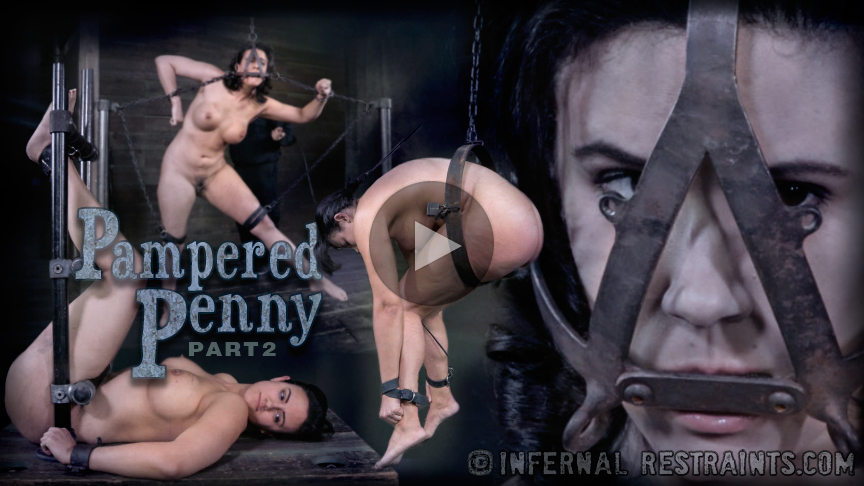 She is struggling to remain free but the way the rope around her neck connects to the pulley, there is no way Penny Barber can resist the strength pulling her into her new box. She hates feeling claustrophobic. Between the cage and the hood she knows this is going to be terrifying. She has tears running down her face before she is even locked in. It wouldn't be so bad if she could manipulate the bondage herself but the way her hands are wrapped up she can't get a grip that would allow her any kind of relief.


The key is to make being outside of the box much more frightening than being inside. To do this OT employs some serious corporal punishment. Chains keep her bound between two posts while he works his whip across her ass and the backs of her thighs. Flipping it between her legs he lands several sharp blows right across her clit and pussy lips.

Even the orgasms are meant to be painful. The pogo between her legs doesn't let her relax at all. As the vibrator makes her weak in the knees and her body begins to slide down the shaft she feels the pressure pushing it further inside of her. There is a bruise forming on her leg from the paddling she is enduring, all the while trying to focus on the feeling between her legs. She wants to cum. The longer she fights it the harder it will be to stay on her feet.

How many times can she cum in one day? How much pain can she endure between orgasms? Every time OT rebinds her Penny knows something worse is coming. Every position has its own trials and vulnerabilities. Each one leaves her open to assault from another angle. The punishments, vibrators, and orgasms all get more intense with each new bind.